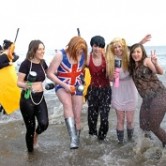 Every year on Boxing Day people around Britain, Europe and the whole world don fancy dress – or simply their swimming costumes – and brave the sea for a traditional dip.
The biggest event in Europe is organised by Sunderland's Lions Club and the oldest is the Tenby Boxing Day Swim. The Welsh event was started in 1970 and now attracts around 600 swimmers, not to mention thousands of spectators, every year. Participants must brave freezing sea temperatures but are then met with a roaring bonfire, and everyone who takes part receives a medal to mark their endeavours.
The event has also grown in recent years to include everything from canoeing to raft racing and is now the biggest event in Tenby's Christmas calendar. For once, tide times won't dictate when you take a dip in the sea – the main event is scheduled for a prompt 11.30am start.
At Sunderland's Seaburn beach, around a thousand swimmers will take to the North Sea for the annual Boxing Day Dip. Another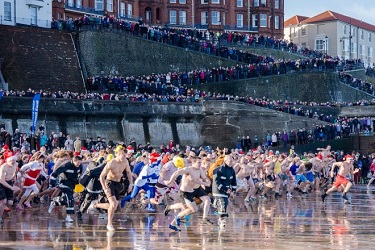 5,000 will watch the event, which originally started in 1974.
There are also popular events held across the country, often raising tens of thousands of pounds for local charities. More are started each year in a bid to extend the Christmas festivities and benefit good causes.
People thinking about enjoying a Boxing Day dip should always take part in official events, where tide times and environmental conditions are understood and adequate safety measures are in place. These carefully-planned events are well-organised and well-managed and involve much more than simply allowing people to throw themselves into the sea.
It is also important to note the importance of not attempting to swim in the sea while under the influence of alcohol. A festive tipple may seem like a good idea to beat the chill, but it can have serious implications for safety (lecture over ;-)).