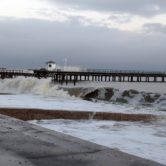 Just a few days after welcoming in 2017, the first storm of the year came crashing in along the east coast of England. A storm surge across East Anglia ushered in unusually high tides across the region, with many coastal areas affected by flooding.
Flood alerts were issued by the Environment Agency, with areas such as Lowestoft, Harwich and Great Yarmouth bearing the brunt of the strong waves; meanwhile, owners of beach huts in resorts such as Felixstowe and Walton-on-the-Naze were fearful that forceful waves could cause damage to their seaside properties.
The river Yare in Norfolk was one of the first areas to be affected by the storm surge. Flooding on the train track at Brundall caused disruption on the train lines between Norwich and Lowestoft, whilst road travel ground to a halt as cars accessing the Strood between Mersea Island in Essex and the mainland broke down due to submerged water on the crossing.
Yellow Ice Warning
Hot on the heels of the recent flood alerts in East Anglia comes a yellow ice warning, with plummeting temperatures in the area set to cause ice, mist and fog.
If you intend to visit the coastal resorts of East Anglia in the near future, don't get caught out by the surging waves or harsh weather that are often a feature of this time of year. Check the forecast before you go and know the tidal movements. This can vary from place to place, even in the same region; for example, Felixstowe Pier tide times can differ to Great Yarmouth tide times. Always check your specific location to ensure your safety.
Remember to wrap up warm when visiting the coast and allow plenty of time for your journey in case of delays on the road or public transport caused by poor weather conditions.