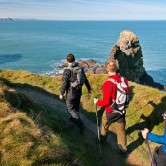 Funding has recently been secured to establish a coastal path in Hampshire, which will be the final link in a complete footpath around England covering a distance of 2,700 miles. About 65% of the coastline in England is currently accessible by foot; however, plans are on track to ensure that the entire English coast will be connected by one long path by 2020.
British walking association Ramblers has been at the forefront of the fight to get this final piece of the footpath in place. Now that the decision has been granted, the charity group is delighted at the outcome.
Natural England has already started creating the first part of the coastal path between Chewton Bunny and Calshot Castle, covering an estimated 35 miles. There are, however, expected to be a number of challenges along the way before the Hampshire coastal path is completed. In addition to having to contact and negotiate with landowners about the changes, some parts along the coast are vulnerable to erosion or flooding, which will need to be taken into consideration during the construction of the path. Some areas en route are also established breeding grounds for birds, with any disturbance to the surrounding area potentially having a detrimental effect on wildlife habitats. Natural England may therefore need to consider rerouting parts of the path where challenges arise.
The completion of the England Coastal Path by 2020 will prove a real boon to the country, attracting walkers and tourists from far and wide. There are still miles upon miles of path to explore before the complete route is finished, so check the tide times, wrap up warm, put your walking boots on and make it your mission to discover England's beautiful coastline.