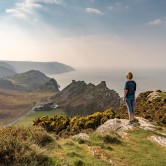 A fundraising coastal walk is set to take place at the end of this month to raise vital cash to safeguard the network of paths that hug the British coastline.
The South West Coast Path Challenge attracted more than 700 people last year, covering over 9,000 miles and raising thousands of pounds in sponsorship. This year, the South West Coast Path Association and the National Trust are teaming up to host an event they hope will prove as rewarding and memorable as last year's.
Due to take place on Saturday 29 October, a ten-mile walk has been arranged that takes in some of the most captivating spots on the South West Coast Path in Dorset. By taking part in the walk, it is hoped that funds can be raised to protect this national coastal trail, which costs £1,000 to maintain for each mile of path. A further £2,000 is required by the National Trust to maintain the surrounding countryside.
The walking challenge this year begins at Durlston Country Park near Swanage and will take in views of Old Harry towards Ballard Down. Poole Harbour will be visible from Ballard Down, as will the coastline and Purbeck. The walk finishes at South Haven, with transport provided back to the starting point at Durlston.
Keep Safe and Check the Tide Times
If you decide to take part in this walk, or any other coastal walks, make sure you are equipped and prepared; in this way, you will ensure you have a safe and enjoyable experience. You can never tell what the weather is going to be like at this time of year, so bring plenty of layers and waterproofs. If you have bought new walking boots, gradually wear them in so you get used to them and bring plasters just in case blisters appear. Check the tide times if you venture onto the beach so that you don't get unexpectedly cut off by incoming tides. For more information, check out their website here.