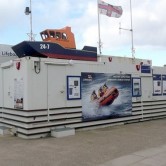 The RNLI does a fantastic job of rescuing people in danger at sea, with one particular lifeboat station rising to the challenge over the last 12 months. Recent reports have highlighted that Weston-super-Mare RNLI saved more lives at sea than any other coastal station in the UK and Ireland last year.
Statistics reveal that the Weston-super-Mare lifeboat was launched 48 times in 2015, during which assistance was given to 29 people and the lives of 13 were saved. The definition of saving lives is when there is an immediate risk to life and a person would not survive without the aid of a lifeboat.
It wasn't just Weston-super-Mare that faced a challenging time last year. Southend-on-Sea RNLI also saw plenty of action and was declared the busiest coastal station in 2015. This Essex-based coastal station launched its boats 142 times, assisted 120 people and saved nine lives.
On a wider scale, it is not just these two regions that have been keeping this worthy charity on its toes. In total, the RNLI launched its boats 8,228 times in 2015, rescuing a whopping 7,973 people and saving an impressive 348 lives.
It is not hard to understand why the lifeboat station at Weston-super-Mare has topped the lifesaving list. The Bristol Channel is notorious for its strong currents; in addition, with the second-highest range of tides in the world, anyone who attempts to enter the waters here puts themselves at risk. What has made the rescue attempts by Weston-super-Mare especially noteworthy is that the crews have been working from a temporary station while waiting for a new station to be built.
The RNLI is advising people to pay attention to warning notices in coastal locations such as Weston-super-Mare and to always be aware of tide times to ensure safe enjoyment of the sea.